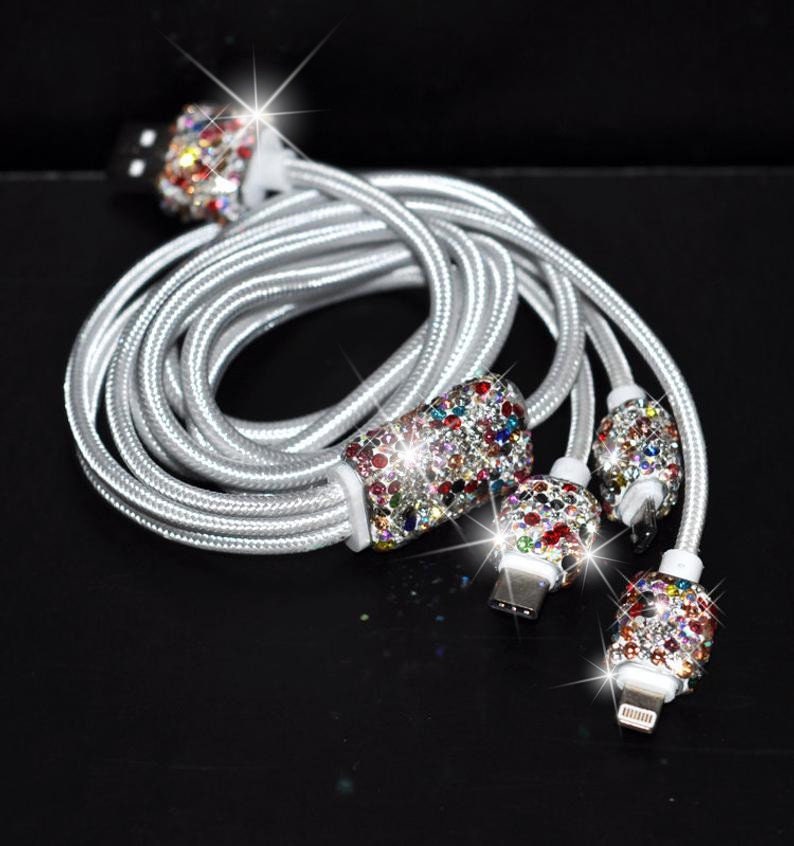 Bling Bedazzled Mobile Phone Data Charging Cable 3 in 1 Lightning, USB C, Micro USB to USB - Apple iPhone iPad & Android Cell Phone
Tired of taking care of 3types of data charging cable for your iPhone, iPad, Airpod, Android phone, Android Tablet, Airpod and other bluetooth devices? Here is the cable which has all these 3 types of cable and comes with superb bling bedazzled rhinestones. Bling your day:)

The main feature of this cable is its 3 in 1 function Lightning, USB type C, Micro USB to USB type A which is applicable to both Apple iOS and Android devices. The cable supports all brands of mobile phones or cell phones (Apple iPhone, Samsung, Google, Sony, LG, Oneplus, Mi etc.) and Tablets (most of iPad, Galaxy Tab) and bluetooth devices ( Airpods, Galaxy Buds, Bluetooth Headphones or Earbuds)

The cable is made with Nylon which is so solid and durable to resist stretching and breaking. The cable is 1.2 meters long!

The connectors of the cable will be bling and bedazzled with Mixing Colors of Rhinestones in Chains. Please understand the colors of rhinestones will be done in random way so the color of rhinestones will be slightly different from the colors shown in the listing. It will need 1 week of handling time and another 1-2weeks delivery. You may request to upgrade the shipping to DHL to fasten the delivery.