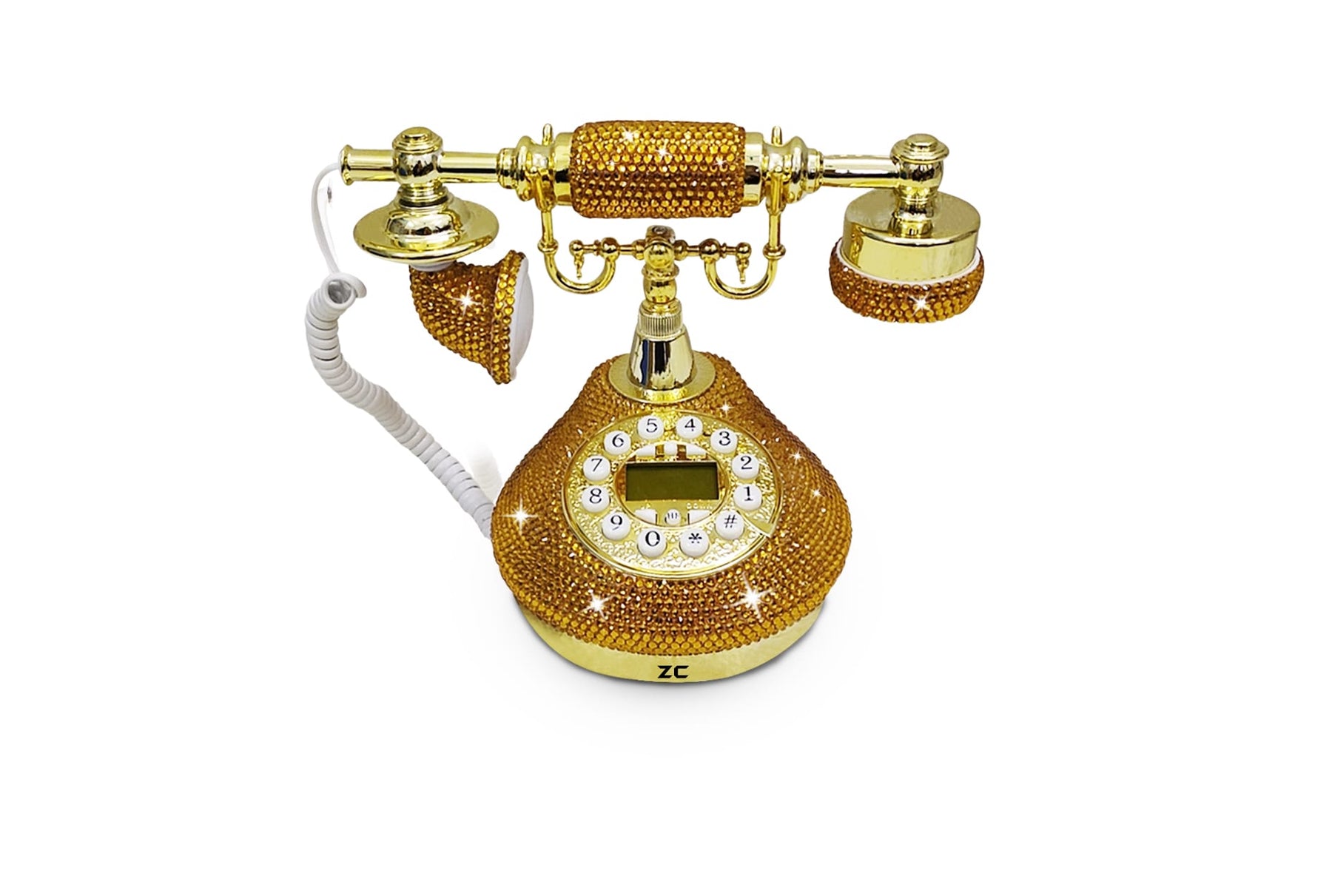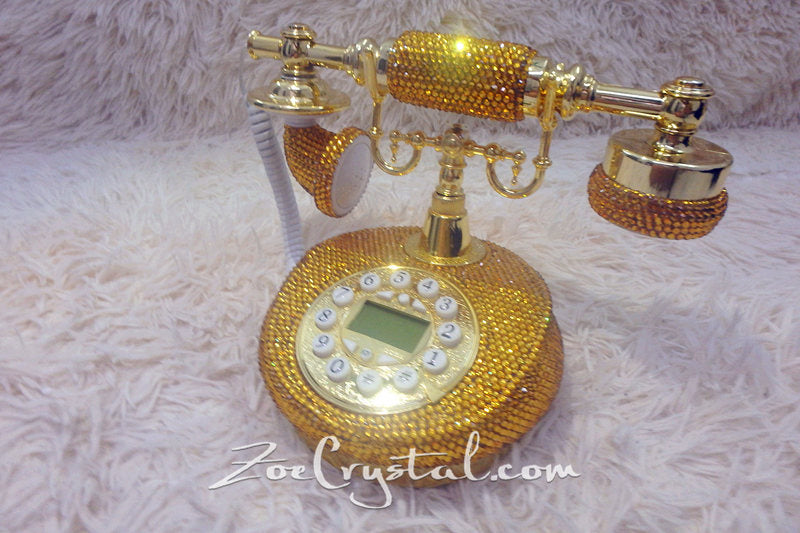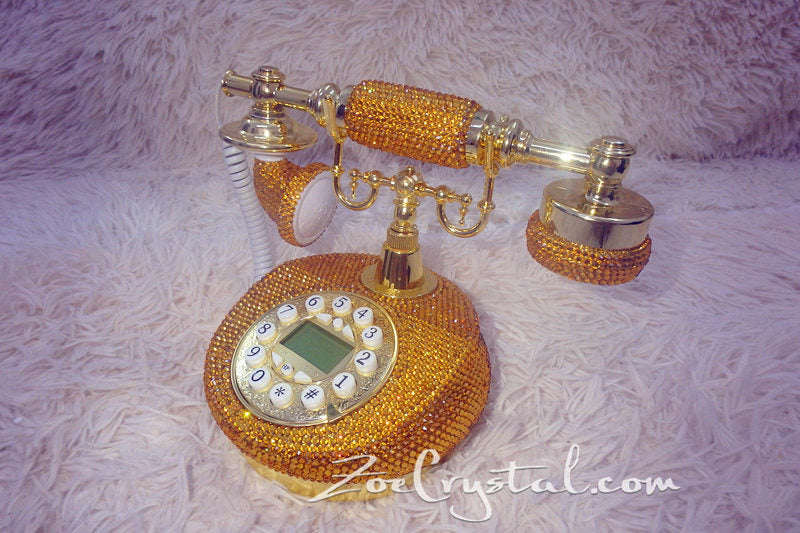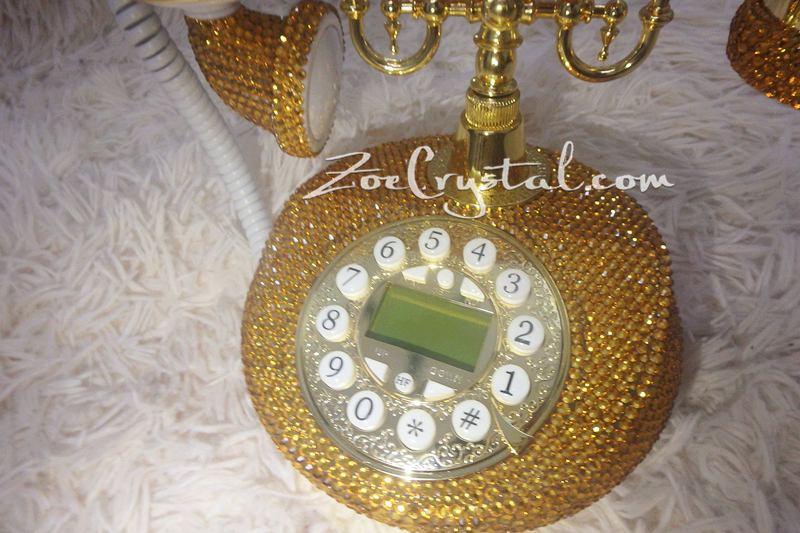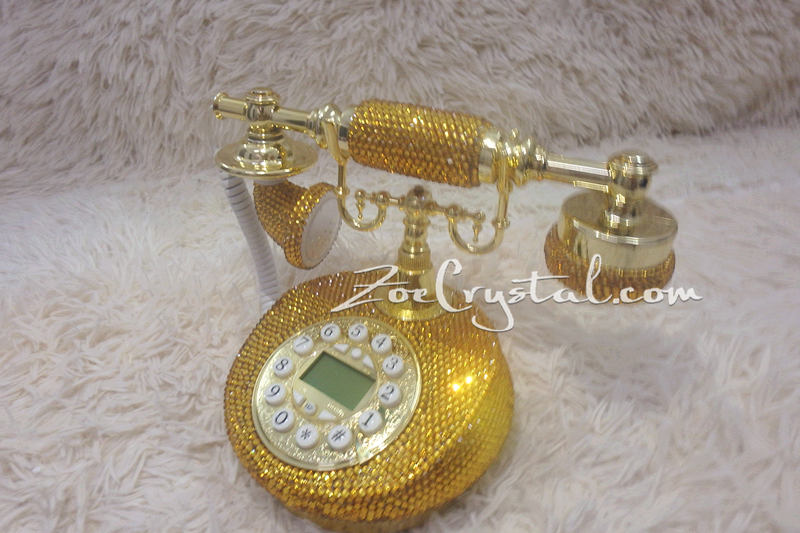 New Color** GOLD CLASSIC Bling and Sparkly PHONE to ensure a good mood when making / receiving a call
CLASSIC Bling and Sparkly PHONE to ensure a good mood when making / receiving a call
Just a soft reminder, this phone can make your office and home shinning and sparkly always. Make people spiritual always.
-----------------------Description---------------------
Size: Length:250mm, Width:165mm, Height: 200mm
Weight: 2.3kg
Materials: Natural jade + Zinc Alloy Metal (Jade crafts + High polished silver )
Warranty: 9months (Malfunction of phone)
Design: Covered with crystals shown in pictures displayed
Color: GOLD
Crystals: Czech Crystals (OPTIONAL - CAN PICK Swarovski with extra charges)
Crystals Coverage: Please refer to photos
** Add your name for USD8
** Please let me know if you have any new idea to customize your dream bag or make a little bit changes like CHANGING THE COLOR OR ADDING SOMETHING ON THE PHONE. We sincerely welcome every single idea to boost our creativity.
-------------Functions of Phone-----------------
Advanced Features
- Handsfree function,
- Screen comes with blue backlight
- No external power supply, no battery, LCD screen direct telephone line with current work
- Showing incoming caller ID
- Able to check dialed number / check time
- Caller ID check, quick check, callback
- Electronic calendar, date, clock and week display.
- One Touch Redial
Functions
- FSK and DTMF caller ID, automatic detection.
- Check the dialed number / Check time.
- Caller ID check, quick check and call back.
- Local area code filtering, code length is 5.
- Auto IP, each memory length (including the curing IP access number) is 32.
- Pre-dialing and error correction, length of pre-dial is 32.
- Electronic calendar, date, clock and week display
Remarks:
- This phone is designated with the stent will have to be put on a certain level of shaking in order to avoid the damage from shaking onto the phone. This is not a quality problem and it does not affect the use and appearance of the phone
- Only one ringtones is available and can not be replaced with other ringtones